Hello everyone,
Hope you had a wonderful Independence Day. It has been an eventful three months for the team, and we are excited to share with you updates on our projects and fundraisers. Here goes!
---
Project Saangaati
Saint Tukaram was a 17th century poet, who wrote " – wherever I go, you are my saangaati (meaning, guide or navigator). Last summer, Dindayal Bahuuddeshiya Prasarak Mandal worked with 40 farmers from four villages (Pathari, Borsinha, Shivani, and Malkhed) belonging to different agro-climatic zones in Yavatmal to try out organic farming practices on a part of their land (1-3 acres)". Farmers replaced pesticides with herbal pest controllers such as neem extract and dashaparni ark (extract of 10 herbs). They also developed organic fertilizers such as jeevamrut (a liquid organic manure) and jeewamrut (a liquid herbal tonic and pest controller). Overall, these practices helped in increasing their yield by 1.2 to 1.6 times.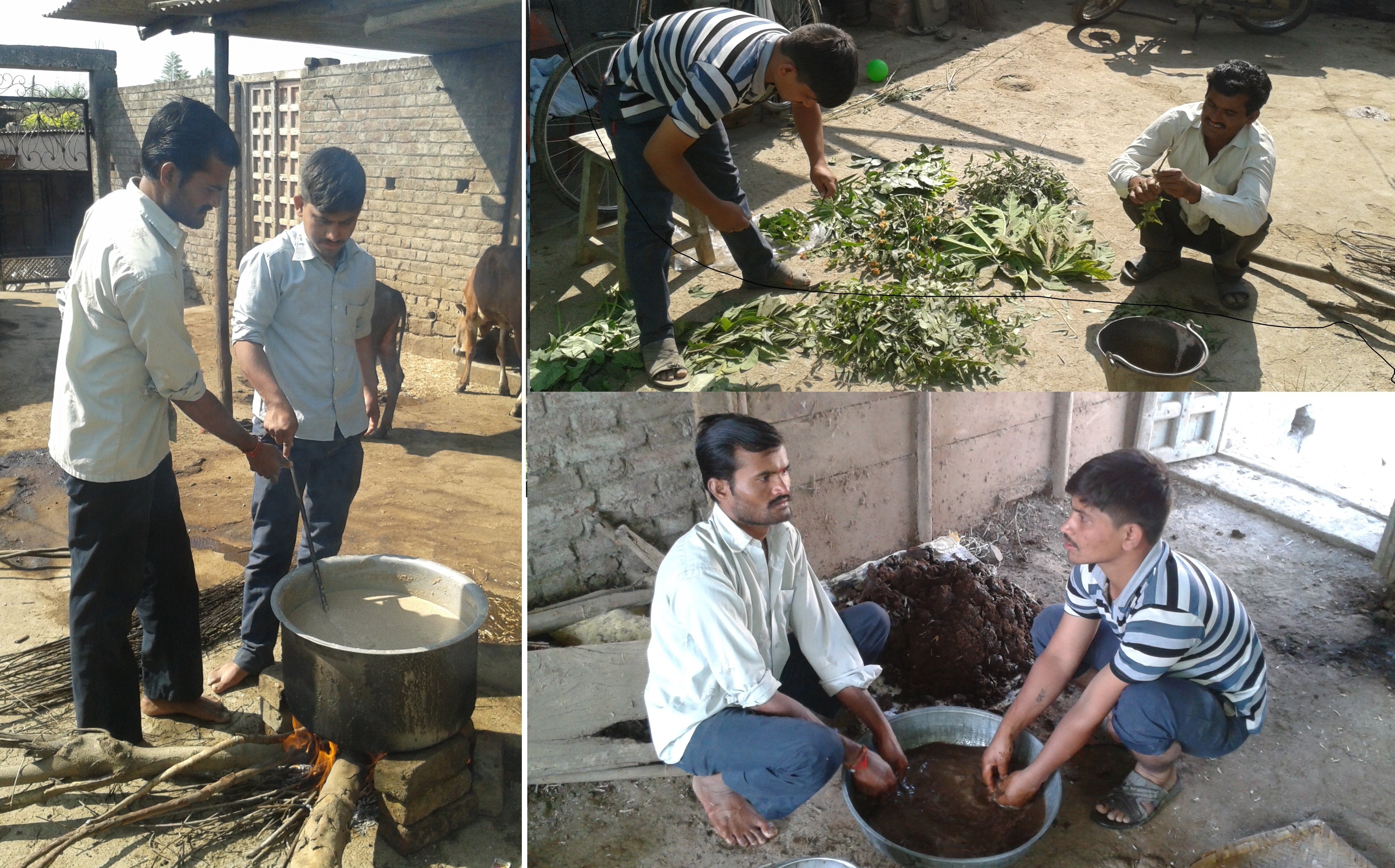 Making dashparni and jeewamrut
Following the success of our pilot project, we now plan to roll this out to 600 farmers over the next two crop seasons (~1 year). In addition to the farmers, one additional family member will be enrolled in the program. Farmers will benefit from the know-how of our agricultural experts and in return, points will be earned by the household members. These points can then be redeemed for soil testing, water storage, access to educational resources and so on. Our fundraising target for this project $67,000. We currently have 12 local coordinators managing this project, and we are looking for more on-the-ground resources.
Project Jal
Water is a primary necessity for life, and effective management of water resources is critical to sustainable development. Often, farmers take loans to drill bore wells, and their rate of use is far greater than the rate of replenishment, leaving them high and dry after a couple of years. We have begun a bore-well recharge project with Sankalpa Rural Development Society, wherein we have completed the recharge of 7 borewells in multiple villages of Dharur Taluk in Beed District. As part of this pilot project, we plan on recharging 5 to 10 more borewells in other regions of India. We will be evaluating the impact via various Key Performance Indicators (KPIs) such as flow of water from the borewells, amount of time water is available after monsoon is over and number of crops farmers are able to cultivate in a given year. We hope to see positive results in the next 6 months, after which we plan on scaling this project to 200 borewells in various parts of India.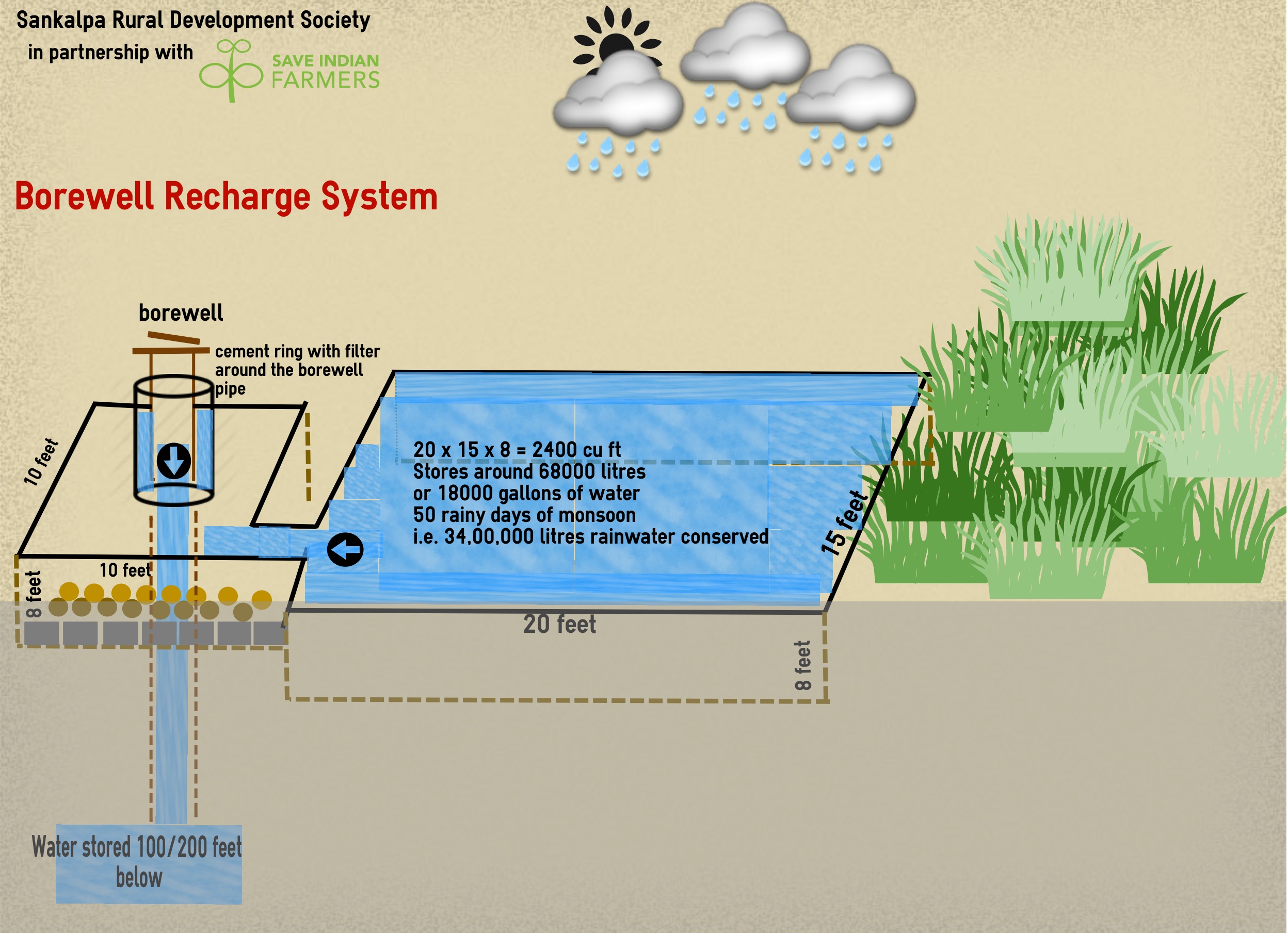 Borewell Recharge System
Fact:Â Did you know that it takes 2000 to 4000 litres of water to produce 1kg of rice?
Bundelkhand Initiative
The name Bundelkhand may bring to mind the recent famous Bollywood historical bio-pic "Bajirao Mastani", where Mastani was born to Bundelkhand's Maharaja. In the last few years, Bundelkhand has been affected by severe drought, so much so that the farmers have become day laborers and struggle to get enough food for their own families. After many months of research, we have identified a local NGO, Parmarth, to collaborate with in this region. For immediate help, we sent Parmarth $5040 to set up a community kitchen where grain and supplies are provided, and the villagers gather together to cook and eat. We plan on supporting this for a few months until the monsoon begins and the farmers start harvesting their crops. For the long-term, we have been working with Parmarth on understanding the key problems in this area and identifying the ones that we can help address.
Fact:Â NREGA is a social security measure that provides an alternate source of income to rural households by guaranteeing 100 days of wage employment every year for manual work.
Project Udaan
In our previous newsletter, we shared with you our efforts in making educational apps from Pratham accessible to kids and teachers in Yavatmal district. Following that, we decided to extend the use of these apps to educate farmers about organic cultivation practices. We identified useful videos from MS Swaminathan Research Foundation and dubbed them into Marathi. We organized a door-to-door campaign to show farmers in 3 districts these organic farming ideas, and over 375 farmers have now started implementing these practices. We look forward to seeing them reap the rich harvest of their hard work!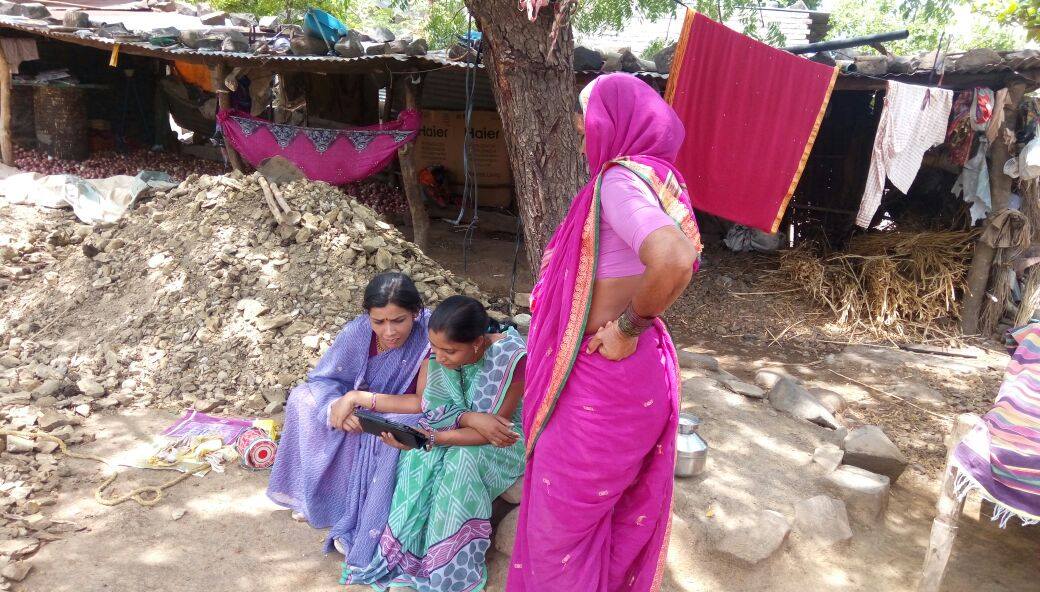 Farmers watching videos on soil testing and organic fertilizers on Android tablet
Adopt-A-Widow
We visited 7 Talukas of Washim and Beed districts and interviewed families (~20 in Washim and ~80 in Beed) with recent farmer suicides to get a picture of their socio-economic conditions. Based on data from this survey, such as land area, current loan amount and number of children, we shortlisted 12-15 widows whom we could help start a small business to sustain their families. After subsequent conversations with them to better gauge their interests and abilities, we have finalized support for 11 women from Washim. Four of them started their goat grazing small-business last month.Â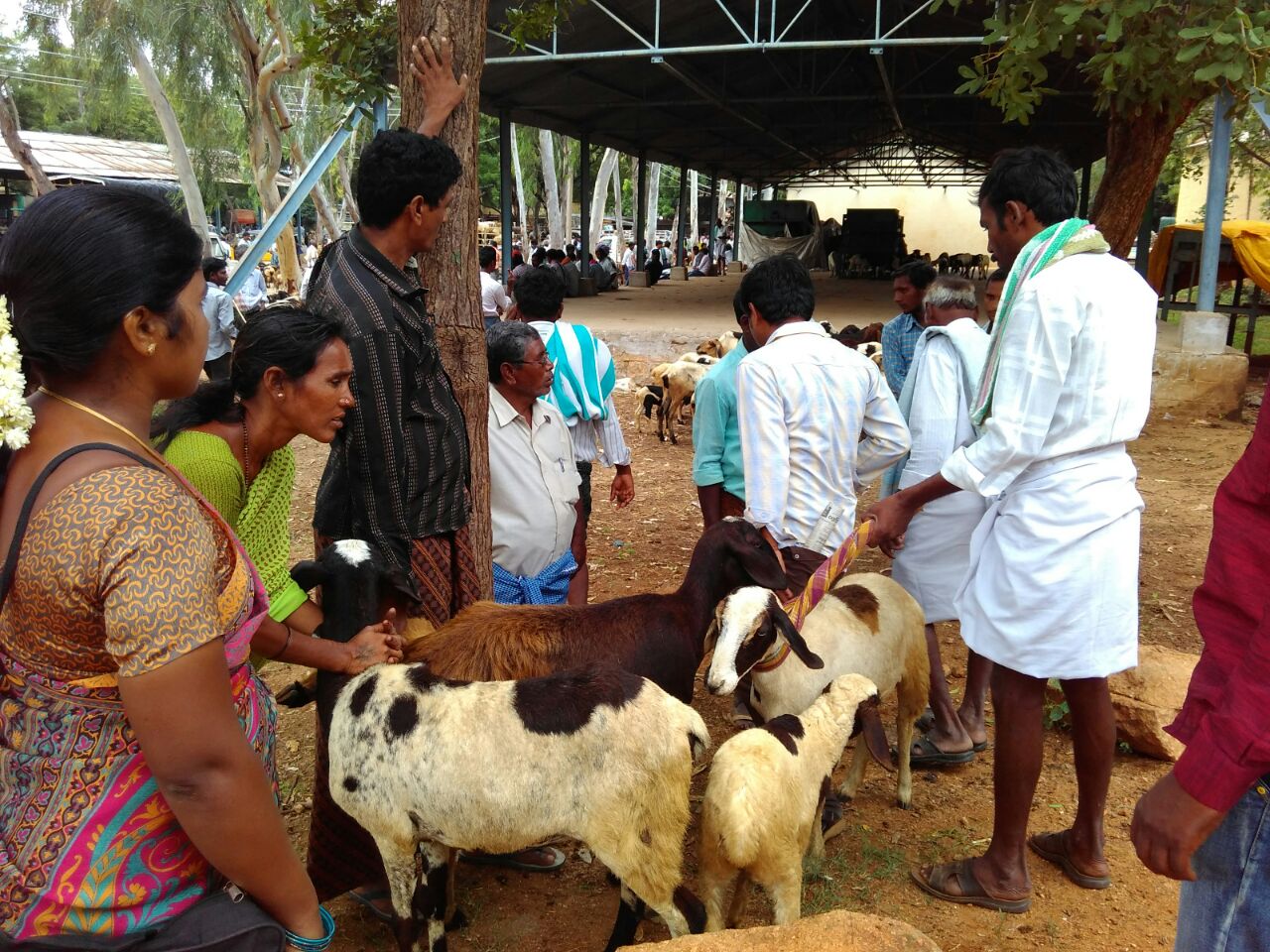 Sugunamma receiving her goat
Our detailed reports from these case studies are documented here:
We have made these reports available to the district collectors as well as other government officials.
Borisinh Village Project
It was a harsh summer for the Yavatmal district with major water issues and consistent rise in temperatures. In these dry times, there is less grass for fodder, and most of the farmers who received buffaloes from SoCCs credits 5-6 months back reported a decrease in their milk yield. The good news is that the monsoons are on time, and that will alleviate their situation. We are sorting out some logistical road-blocks in Phase-II of our project, and we are working to resolve them.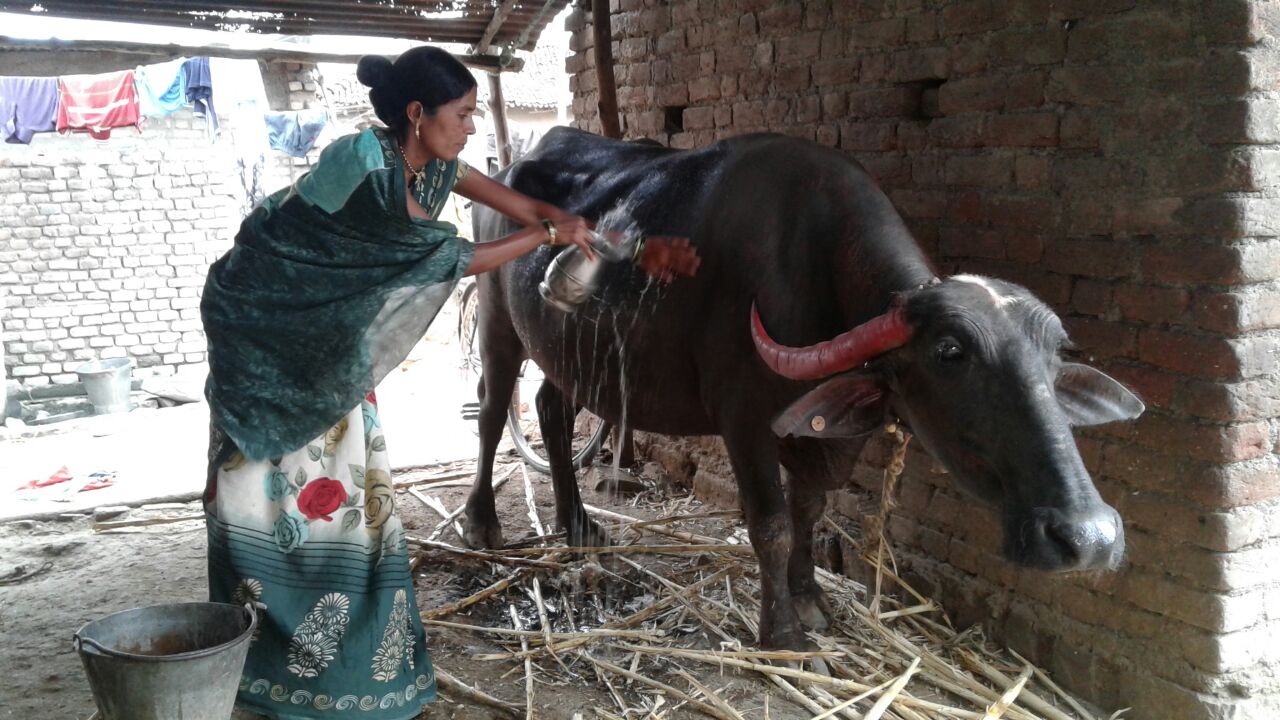 Mrs. Aruna Keskar taking care of her buffalo
Micro-loans in Varuna
Last quarter, we began providing micro-loans of Rs. 8000 each (at 5% interest) to 10 women farmers in Varuna, Karnataka for their paddy farms. To follow-up on their socio-economic conditions, a group of SIF volunteers visited Varuna along with a representative each from Rang De and SVYM. We found out that the farmers have sufficient access to water and the market since the village is located near a major highway. The areas that they could use some help in are getting access to resources from their local agricultural universities as well as maximizing utilization of government subsidies and schemes.
Recent Events
KALP concert (June 18 2016): We collaborated with Hidden Gems to host the Kalyanji Anandji Laxmikant Pyarelal concert in Skillman, NJ. Over 750 people attended this event, and we raised $20000 for our Kisan Mitra and Saangaati projects.
Art N Beat Recital (July 8, 2016): Smt. Kavita Krishnamurti and her son Ambi Subramaniam gave a wonderful performance at Edison, NJ, following which we spread the word about Save Indian Farmers to the audience. India Mela (Aug 13-14, 2016):A group of middle-school kids from San Ramon, CA did a fabulous job raising $2,000 for our borewell recharge project at the Independence Day mela in Fremont.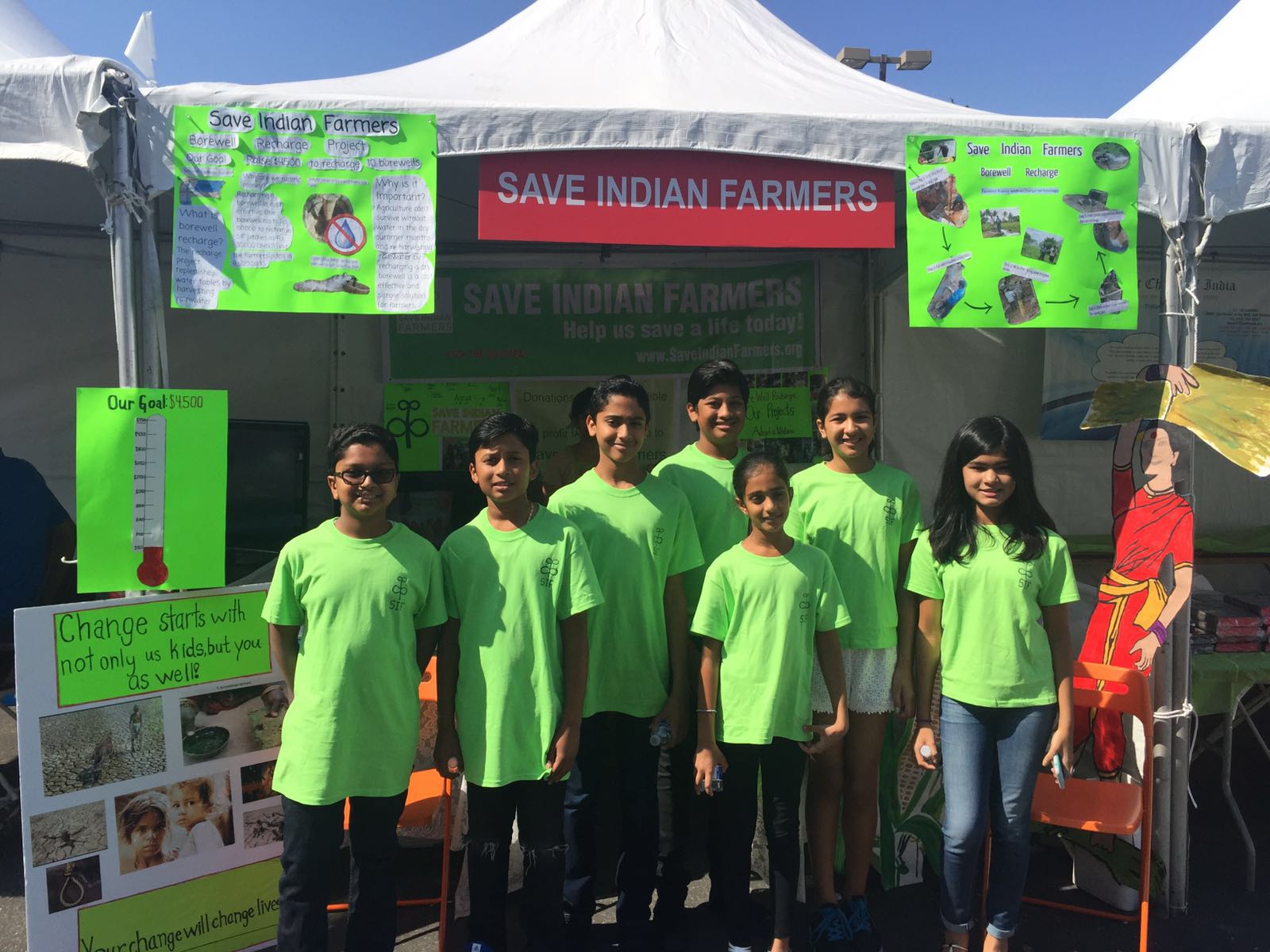 SIF booth at India Mela, Fremont
Farming in the News
Cheers,
Jitendra Karkera
President
Save Indian Farmers
Donate
About $600 is all you need to invest to settle a farmer's widow, with a small business. This small business will help her support herself and her family for life. Would you like to invest in a family? Click on the donate button here or make a check payable to Save Indian Farmers and send it to 137 Courts Lane, Little Rock, AR 72223, USA.
Get Involved
You can donate online as always, and we will use that money towards helping more farmer families. You can also join our community of over 150 volunteers, who are donating their time and effort for one simple objective – to make a positive difference in a farmer's life.
Did you know, you can go to
http://smile.amazon.com
and search for us? Just sign up with Save Indian Farmers as your organization and keep shopping for items you want to buy. Amazon will send us 0.5% of your purchase price as a check. It does not cost you anything. Your shopping helps us make a difference in the lives of farmers.
Ask if your employer matches your generosity to double your donation.
Participate in our KISAN Award program
, through which, we invite investors to be part of the next generation of social investors. You can choose projects and decide where you would like to best utilize your hard-earned money.