inFUSION – East n West in a Perfect Harmony to support Project Jal
TV Asia Studios, New Jersey, United States
inFUSION- a show with live music featuring a group of talented teenage musicians. They bring a special creative flair in interpreting and presenting soulful melodic harmonies of the East and West, while playing a variety of instruments and singing novel interplays of songs in multiple languages.
The show is scheduled to be held on Sunday, May 14th, 2017 at TV Asia Auditorium in Edison, NJ. We are expecting 300-350 guests in our audience that will range from students and families from the local community as well as supporters of Save Indian Farmers.
The proceeds from this musical fund raiser will be used for Project Jal to support farmers in Andhra Pradesh, Karnataka, Tamilnadu, and Maharashtra. Our goal for 2017 is to help at least 200 needy, marginal farmers in drought affected areas, adopt rainwater harvesting techniques so they have a sustainable means of irrigation water available to them for their farming needs. To that effect, we have partnered with Sankalpa rural development society, which offers a unique technique to harvest rain water and feed it to the water table for safe keeping via existing borewells that farmers have already dug. This technique is called direct borewell recharge.
Based on a pilot we conducted last year in Dharur taluka of Beed district, Maharashtra, we were able to conserve over 15 million liters of water, which was sufficient for these 10 poor farmers to harvest a second crop even in drought like situations.  In order to scale the success of our pilot, we plan to work with over 200 farmers in different regions of India and help them with their Borewell recharge. The typical cost to recharge a borewell is about Rs. 40,000 out of which the farmer spends 50% and our organization provides the remaining Rs. 20,000.
We look forward to your support for our initiative, while we also assure you of a FABULOUS Sunday evening!!
You can buy tickets using any of the links below
SULEKHA
    OR      
TICKET HUNGAMA
You can also reserve tickets by completing this RSVP form and send your check payable to: Save Indian Farmers, 835 Raritan Road, Scotch Plains, NJ 07076.
SPONSORSHIPS
If you are interested in becoming an event sponsor, please contact:              
Mahesh Wani:              732-754-9830        maheshwani@yahoo.com
Shailesh Chirputkar:   732-208-1859        shaileshchirputkar@yahoo.com
DONATIONS
You can make donations via via PayPal by sending payment to donate@saveindianfarmers.org and mention "inFusion".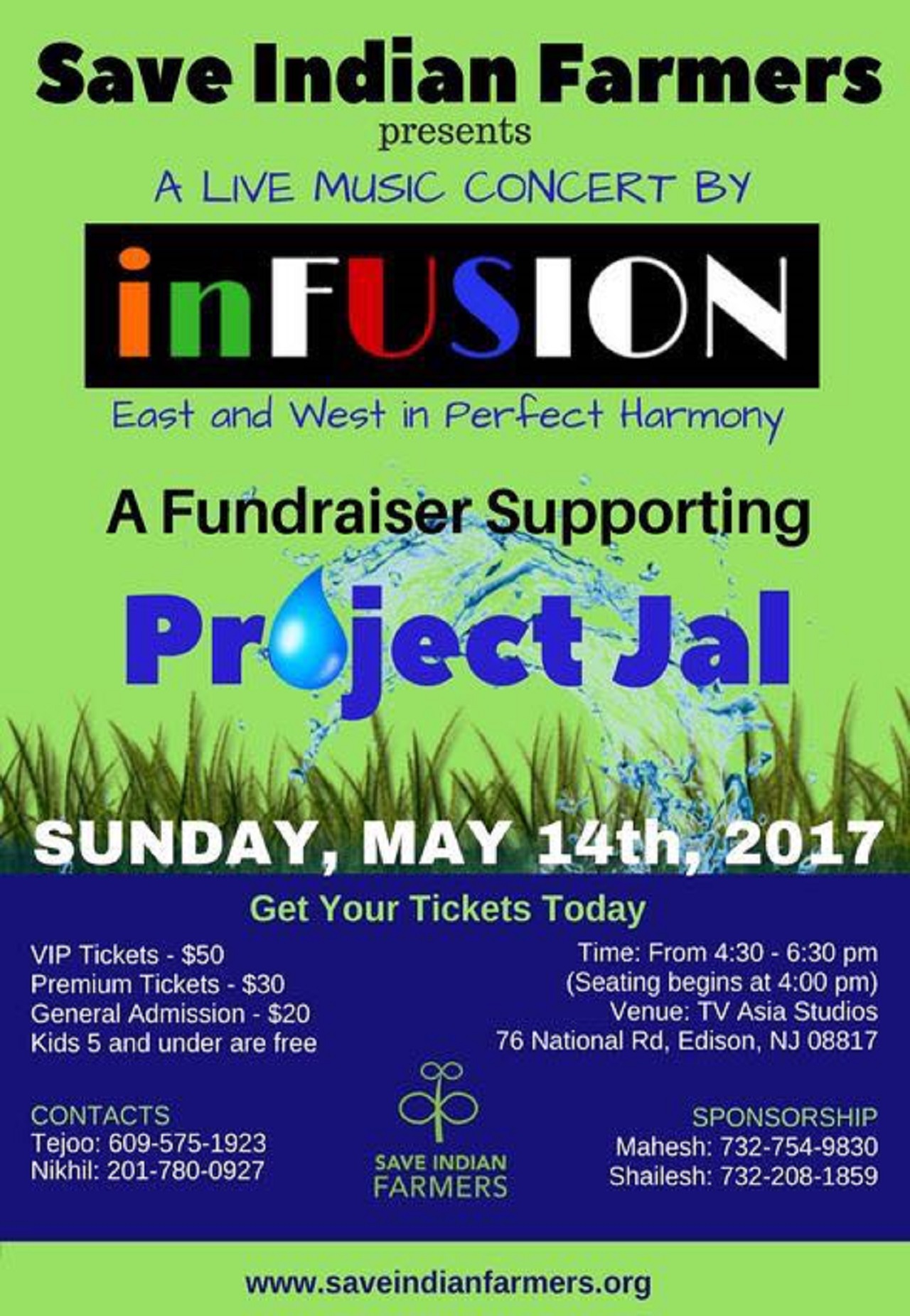 Buy Tickets Now!
SULEKHA
    OR      
TICKET HUNGAMA
Or fill this RSVP form and send your check payable to: Save Indian Farmers, 835 Raritan Road, Scotch Plains, NJ 07076.