Recently formed "Save Indian Farmers – Cary Chapter" conducted a WALK-A-THON on April 19th 2015 to help support 27 widows as their first event in North Carolina.
Generating awareness and campaigning was done thru several communication channels including but not limited to online publicity, radio talk show, banners/flyers thru different places & booth setup in community events like Ugadi and Sankranti. Hard working volunteers left no stone unturned to effectively reach out to the Indian community living in the triangle area.
As a result of this outreach, several Indian families registered for the event. Local businesses sponsored the event to show strong support for the noble cause.
The event was conducted at beautiful North Cary Park on a brisk Sunday morning. The park has 3 mile long walking trail next to the serene Lake Crabtree. 160+ people participated in the walk. Youth volunteers from Marathi and Telgu association helped the core team to ensure that the event is safe, fun and informational for everyone. The event was also covered live by TV-ASIA and TV5 throughout North America & India respectively.
Overall, the WALK-A-THON was a huge success & managed to raise over $5000. This donation will be used to help around 10 widows of farmers. Working with such individuals gives us a hope that together we can make real difference!
Following are the profiles of 10 widows we raised money for.
Some of the event details below: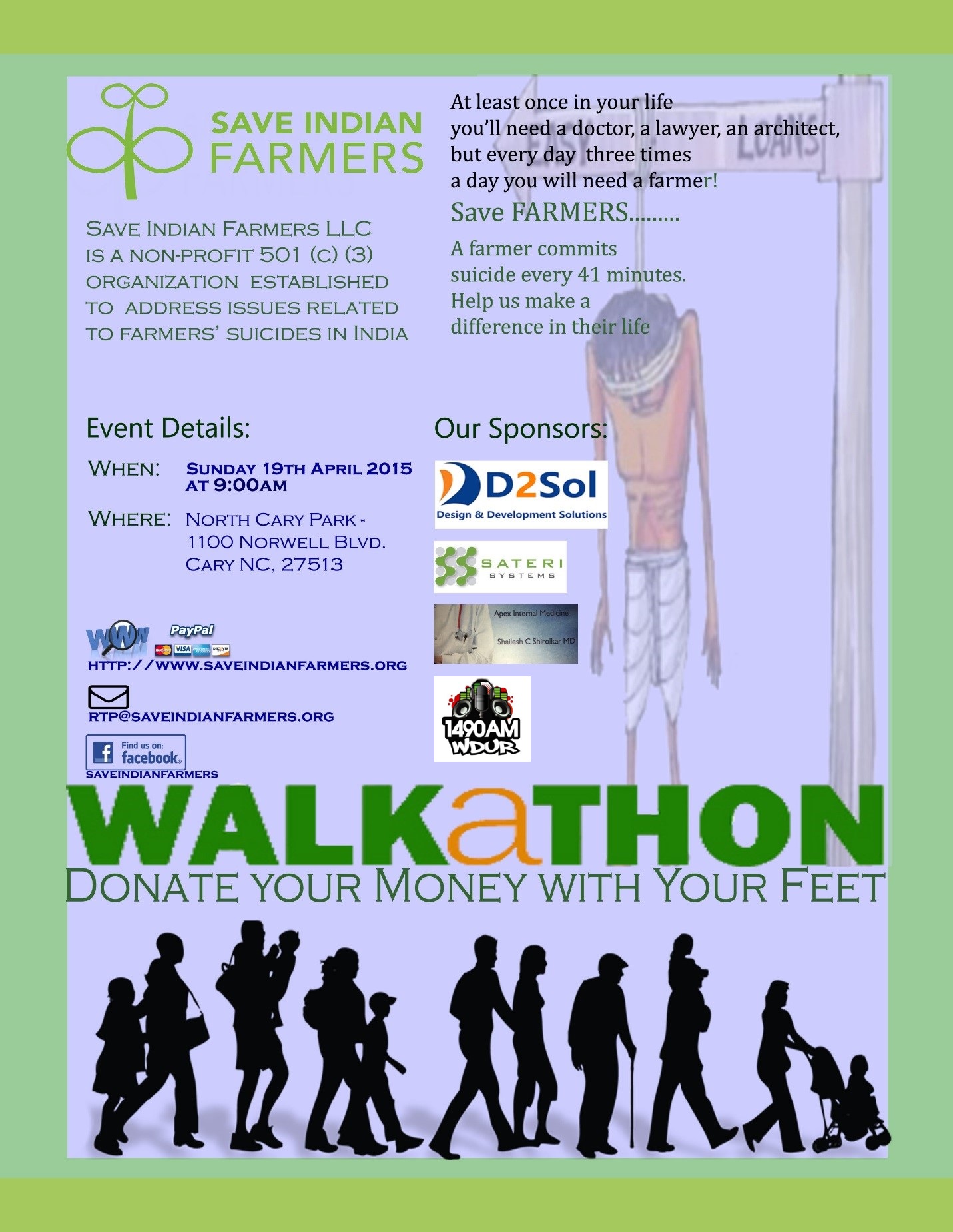 Save Indian Farmers RTP-North Carolina Chapter is organizing a Walkathon on April 19th. The purpose of this walkathon is to raise awareness about farmers' suicide issues in India and how we can help make a difference in a farmer's life. This will be a healthy family fun event. Local support from Indian community is overwhelming and expected participation for this event is around 150.
During this spring event, participants are expected to walk for around 3K thru Black Creek Greenway connecting North Cary Park (depending upon individual capacity). Volunteers will give information regarding the cause and encourage participants to make difference in a farmer's life by donating.
Please make sure to register at the event and sign the disclosure form.
Healthy snacks will be provided along with water bottles.
WHEN: April 19th 9am
WHERE: North Cary Park, 1100 Norwell Blvd, Cary, NC 27513
Event sponsors:
D2SOL Inc.
Goldline Technologies Inc.
Sateri Systems
Dr. Shailesh Shirolkar
Satish Garimella
Vencesoft Inc.
Local Media Partners